Personal Convenience Services
Automatic Transfers

You may set up automatic transfers to take place on a daily or monthly basis. This is a convenient way to make loan payment or to transfer funds between your accounts. 

Bank by Mail

Banking with Farmers and Merchants Bank is as close as your mail box. You may make deposits or payments by mail. Upon request we will send you a self-addressed envelope for your future Bank by Mail transactions. Bank by Mail today at the following address

Farmers and Merchants Bank
P.O. Box 128
LaFayette, AL 36862
Check Imaging

Our statements have images of checks and deposits. This makes an easy and convenient way to balance your checking account. The deposits are in date order and the checks are in check number order. 
Drive-Up Teller Window

The LaFayette, Huguley, and Dadeville Offices have drive-up windows for fast and efficient service.
Window Hours:
LaFayette 
Mon. Tues. Thurs. & Fri. 8:00 AM to 5:00 PM
Wed. & Sat. 8:00 AM to 12:00 PM
Huguley 
Mon. Tues. Thurs. & Fri. 8:00 AM to 5:00 PM
Wed. & Sat. 8:00 AM to 12:00 PM
Dadeville
Mon. Tues. Thurs. & Fri. 8:00 AM to 5:00 PM
Wed. & Sat. 8:00 AM to 12:00 PM
Notary Public Service

A free service to our customers. If you need legal documents notarized, we have a number of Notary Publics available for your assistance.
Night Depository

Deposits can be made after hours at all locations. Using the night drop ensures your deposit will be credited to your account the next business day. Locked night deposit bags are available for purchase.
Telephone Banking

The telephone banking service is available 24/7 if you need a balance or to make a transfer. Call    (877) 864-9941 for up to date information.
NetTeller Online Banking
Access your Farmers and Merchants Bank accounts 24 hours a day, 7 days a week. Check account balances, view transactions, transfer funds, and view monthly statements on our secure website. 
Mobile Banking

Manage your finances on the go with the Farmers and Merchants mobile banking app.  
Way2Pay Online Bill Payment
Our free Bill Pay service allows you to conveniently schedule recurring monthly payments or issue one-time payments through Farmers and Merchants Bank Online Banking. You can view payment history and set payment reminders to be emailed directly to you. Sign up for Farmers and Merchants Way2Pay Bill Pay today.  
E-Statement
Tired of filing paper statements? Sign up for e-Statements today.  It's safe and secure and provides electronic access of up to 18 months of statements through Farmers and Merchants Bank Online banking.  
Wire Transfers

Funds may be sent and received from almost anywhere in the world by wire transfer. 
ATM

Farmers and Merchants Bank has ATMs at all locations making it easy to get quick cash any time day or night.

Debit Cards
Now available at Farmers and Merchants Bank, debit cards are a fast way to make purchases. All debit card transactions are listed on your statement. You can also make purchases online or on the telephone using your debit card.
Direct Deposit

Direct deposit is the safest way to receive your payroll, social security or retirement pay.
Overdraft Protection (Bounce Protection)

Overdraft Protection is available for personal checking accounts. If you should have an overdrawn check it will be paid, saving you worry of checks being returned to merchants.
Safe Deposit Boxes

All locations have safe deposit boxes available for rent.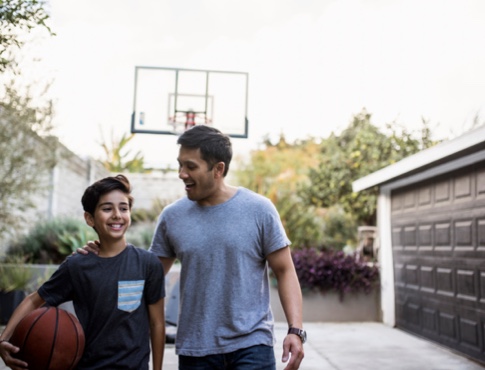 Now is the time to enjoy what life has to offer.
Whether you're dreaming of home improvements, a family vacation, or buying a new car - we're glad to assist you.